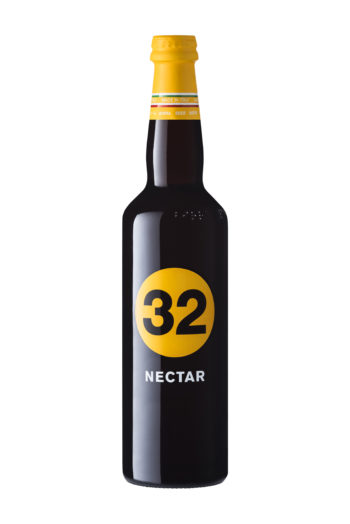 32 Via dei Birrai Nectar
Systembolaget art. nr: · Ekologisk
Mature, Man and Progress: an eco-sustainable path
32 Via dei Birrai is an artisan brewery. Its philosophy follows the movement of the circle that contains the logo: a curved line that outlines the cycle of the traditional craft of brewing and leads on to discovering as yet unexplored paths.
32 Via dei Birrai represents the perfect equation between taste and design, between research and method without ever straying into industrial standardisation.
This is shown by the certificates awarded the brewery, which guarantee the quality parameters.
http://www.32viadeibirrai.it/en/brewery/
Dark double-malt top-fermented chestnut honey beer, bottle conditioned.
Type of beer:
Honey beer (limited production speciality obtained from wort prepared at the end of July with chestnut honey from Monte Grappa).
Carbonation:
low
Excellent with:
soft ripe cheeses with a strong aroma and flavour, cheesecake, assorted cured and smoked cold meats.
Serving temperature: 10-12 °C
Leave the beer to "oxygenate" after having poured it out (its excess of aroma must be released).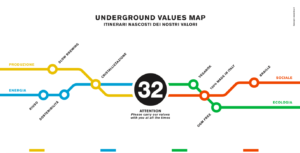 | | |
| --- | --- |
| Årgång | N/A |
| Producent | 32 Via dei Birrai |
| Land | Italien |
| Område | Treviso |
| Volym | 750 ml |
| Färg | beige, kompakt, långlivade och fint huvud, mörk vätska, inga suspenderade ämnen men möjligen en jäst moln; fina Perlage |
| Doft | Kastanj honung, balsamico, bitter örtartade, ljusa karamell dofter |
| Smak | Dominans av kastanj honung, härdade, bittra örtartade sensationer, mild surhet på grund av rostade korn, karamell. Komplexa bitterhet som kommer från en kombination av honung, rostat korn och humle. Fyllig. |
| Passar till | Aperitif/Sällskap, Charkuteri, Lagrad ost |
| Alkoholhalt | 8% |
| Malt | Malt |
| Serveringstemperatur | 10-12 °C |