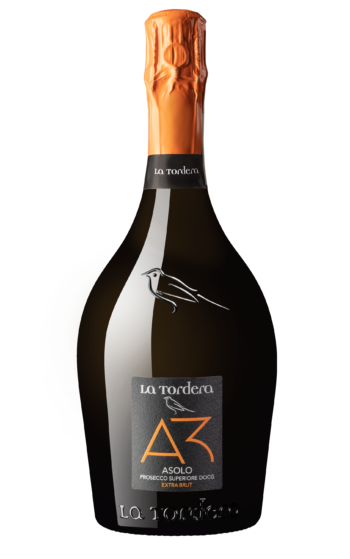 La Tordera Prosecco Asolo Prosecco Superiore DOCG Extra Brut
Systembolaget art. nr: · Champagne/Mousserande
A3 EXTRA-BRUT
Asolo Prosecco Superiore D.O.C.G.
The grapes are harvested by hand in a very small vineyard in the town of Maser, a few kilometers from the historical city of Asolo.
The area is characterized by good ventilation and its soil is rich in minerals which are two elements that enhance dry sparkling wines.
A3 is an Extra Brut with 3 grams of sugar residue, typical of the identity of the hills around Asolo where the nature of the soil creates well-structured wines which are plea- sant and elegant.
Area of Origin: Maser, one of the 19 municipalities of Asolo Prosecco Superiore D.O.C.G. area of production.
Training System: Double-arched cane.
Harvesting Period: From September 5 to 15.
Sugar Content: 3 g/l
Total Acidity: 5,3 g/l
Total Sulphur Dioxide: 72 mg/l (liv. max consentito nello spumante 235 mg/l, liv. max consenti- to nello spumante Bio 117 mg/l)
| | |
| --- | --- |
| Årgång | N/A |
| Producent | La Tordera |
| Land | Italien |
| Område | Asolo |
| Druva | Glera 100% |
| Volym | 750 ml |
| Färg | Ljus halmgul |
| Doft | Delicate noter av vita blommor som Acacia |
| Smak | Karakteriseras av en interssant balans mellan lätt friskhet, typisk från Glera druvan och en speciellt torr och spröd finish |
| Passar till | Fisk/Skaldjur, Friterad Fisk, Grillad fisk |
| Alkoholhalt | 11,5% |
| Perlage | Fina och långvariga bubblor |
| Serveringstemperatur | 8 °C |