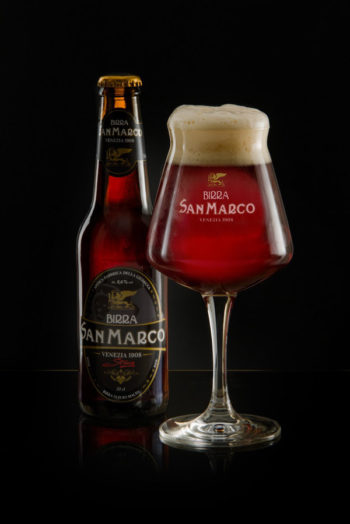 Birra San Marco Strong
Systembolaget art. nr: · Öl
From the passion for the history of our city combined with a passion for good beer, in 2007 was founded Birra Venezia Company.
With an objective of uniting quality and tradition, Birra Venezia has re-launched on the market two historical brands: Birra Venezia and Birra San Marco.
The history of beer
The production of beer in Venice has ancient origins, in fact, as early as 1835, in the factory of Santa Chiara, once stood the company named "Billiotti", that later would become the factory of Birra Venezia.
Venetian Distillery
In 1902, the company changes its name and becomes "Distilleria Veneziana". The activity is transferred to the island of Giudecca, on Fondamenta S. Biagio at number 796, in a new brewery equipped with the most modern industrial systems for the production of beer.
Birra San Marco Company
In 1908, after a brief closure for the installation of safety improvements, the company becomes "Società Birra San Marco" and increases its workforce to 130 employees.
Birra Venezia®
From 1913 the company changed its name to became "Fabbrica della Birra Venezia S.A." and for many years is realizeda leading product of the Venetian industry, omnipresent in the "osterie" of the city and sponsor for the regattas in the Giudecca Canal, just in front of the factory.
1929
In 1929, adhering to the policy of concentration which began to spread in more areas, Birra Venezia and about ten other brands were absorbed by Birra Pedavena. Afterwards, Birra Venezia ceased its production.
Birra Venezia Company
In 2007, with the objective of recovering a historical past and ancient tradition, it was founded Birra Venezia Srl Company, which relaunches the brand Birra Venezia uniting the quality of the best Italian brewing production.Three types of beers are produced: Birra Venezia Bionda, Birra Venezia Doppio Malto and in 2010, Birra Venezia Bianca.
High fermentation beer with full and soft body. Its aroma is sweet and perfect balanced with a creamy and compact foam.
Four specialty barley malts and two noble hops varieties, give it elegant notes of dried fruits and liquorice.
Excellent with red meat braised or roasted, barbecued meats, smoked fish, aged cheeses, seasoned goat cheeses and Sacher cake.
| | |
| --- | --- |
| Årgång | N/A |
| Producent | Birra San Marco |
| Land | Italien |
| Område | Venezia |
| Volym | 330ml |
| Färg | Mörk amber |
| Doft | Complex med noter av lakrits |
| Smak | Kraftig men samtidigt mjuk |
| Passar till | Grillat, Grytor, Mjuk ost |
| Alkoholhalt | 8,6% |
| Typ | Strong Ale |
| Malt | Monaco, Pils, Caramunich, Caravan |
| Humle | Tettnang, Spaalt |
| Serveringstemperatur | 6-8 °C |